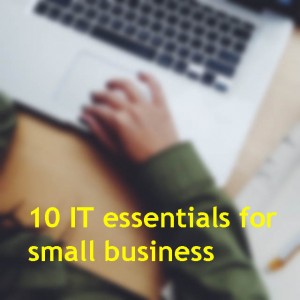 Running any business is a balancing act, but having the essential tools in place can certainly tip the scales in your favour. In a connected world it's nigh-on impossible to manage without some computer hardware and a standard suite of office software, but once those are in place, what are the essentials for any business to get on and keep succeeding?
While a lot will depend on the specifics of the business, these are the 10 we think nobody can do without:
1. Website
I'm sure every business now has a website in place to allow them to promote themselves and communictae with customers and prospects. The key thing is to appreciate the objective for your website, and how it can help to generate new business or serve existing clients. In turn, it should be optimised to achieve those goals – make it easy for prospects to move closer to purchase, and make it simple for clients to receive support and information when needed.
2. Blog
A blog is a great asset for every business website when used the right way. It can tell your story, demonstrate what you do, and help inform prospective clients. A blog also has the benefit of being search-engine friendly, making it easier for people wanting your services to find your site. Demonstrate your expertise, provide value to others and see the benfits for your own business in turn.
Our choice: WordPress
3. Key mobile apps
One of the great truths of small business is that you often don't tend to have much time to mind the shop. Often you will need to visit customers or be out of the office to actually do your job. That time on the road can't afford to be wasted, so being able to take your work with you via phone, tablet or laptop is a tremendous boost to your productivity.
4. Cloud storage
In addition to those mobile apps, you can be certain that there will come a time when you need to work on a certain file when you are away from the office. Or alternatively you might have something really useful or important that you need to share in that moment. This is where cloud storage comes into its own – being able to access those vital documents (almost) anywhere and any time can be the difference between sealing the deal and finishing the job or not.
Our choice: Google Apps For Business
5. Antivirus and malware protection
Being connected to the internet and to the world via email is a blessing, but can also be a curse. Nastiness is lurking out there to catch the unwary , unprepared and unaware. Up-to-date virus protection is an absolute must for any internet user, and doubling up with strong spyware/malware protection will ensure you can safely navigate the web without opening yourself and your business to potential mailicious damage.
6. Backup
On the subject of safeguarding, a robust backup solution is essential for business. As noted above, there are no shortage of malicious items out in the computing world that will do great harm to your systems given the chance. The biggest danger to your data however is probably right there around you. Most of our recovery requests are the result of user error such as accidental deletion, while physical damage like a stray cup of coffee over a laptop can wipe you out in an instant. Having everything safe and secure, centrally stored and frequently backed up is the best chance to ensure you don't lose something  vital.
Our choice: Shadowprotect
7. Analytics
If your website is doing its job, it is bringing you online visitors and leading them down the path towards conversion to customers and buyers. But how can you be sure of who is visiting and what they are doing on your site. What elements of your site or its content are working harder than others? This is where website analytics comes in. Track your visitors and their activity and you can learn a whole lot about your website's effectiveness, and fine-tune your marketing accordingly.
8. CRM
When you do make contact with those prospective customers and hopefully turn them into customers, how wil you make sure that they don't slip away? With the wealth of CRM (customer relationship manager) systems on offer today, it has never been simpler to keep track of how you are marketing and to who, where the opportunities lie and ensuring that your customers are served well.
Our choice: Suite CRM
9. Remote access
All the apps, and all the cloud storage in the world won't insure you against the day that there is one particular item or program that you really need to work on that is only on your computer. Having remote access in place to be able to get in there and do the job will feel like the greatest invention of all time when you can stay on the sofa and still do what's needed.
Our choice: Screenconnect
10. Social media
All the world's a stage, and never has it been easier for your business to deliver a performance. Social media platforms enable even the smallest businesses to reach numbers that required million pound advertising budgets not so long ago. Every business has a story to tell, share yours with the world and get communicating with everyone. You can even use it as a customer service channel.
Follow us on twitter @HelpITEssex or find us on LinkedIn
Those are the IT tools and resources we think every small/medium business should definitely be using. Do you agree? Let us know in the comments below, and add your own IT must-haves.
Help-IT Consultancy offer a range of IT services for businesses throughout Essex and beyond. From our base in Southend we offer IT support, planning and procurement.
Please call us on 01702 704001 today to discuss your IT needs.
Image courtesy of Death To The Stock Photo